I adore wearing my men's micro swimsuits but I haven't tried taking them out in public just yet. I think most people would not appreciate seeing me walking around in my micro designs. It's not that I am a bad looking guy or anything, but I really don't have much down there to fill even a micro. I think a lot of people would compare me to some kind of flat chested woman walking around without a top on or something. I would hope that they didn't see me that way, but I have to live with the truth that I have a rather small penis.
I do enjoy wearing my micro swimsuits around my own pool whenever I get the chance. Most of my friends already know how small I am so when they come over and see me, they don't really say anything. My neighbor tends to stare a lot, but I think it's more that he is jealous because I am willing to wear something like this. At least that is what I keep telling myself so that I don't get too paranoid about him looking over my fence all the time. I suppose you never really know what's in someone's mind, though.
Wearing micro swimsuits is something that a lot of guys are able to do and they look great in them. I don't feel comfortable walking around in front of strangers just yet, but I am doing everything in my power to get that way. I want to strut my stuff down the beach and have people notice me, but it might take me a bit of time before I am ready for all of that. Until then, I will continue to wear my micro around my own pool and enjoy them when no one of any importance if actually looking at me. It will help me build the confidence I need.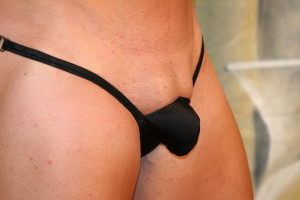 Ultra micro swimsuit. This is the world's smallest men's swimsuit micro pouch. The suits design actually forces the balls inside the body and holds them in place. The shaft is compressed down to it's smallest possible size. This model as an 8″ shaft but compressed it looks well under 1″ in size.