If you haven't seen the new micro swimsuits, then you are going to the wrong beach. These things are absolutely fantastic and most of the guys that I have seen wearing them beyond hot in them. I have seen a couple guys that I thought were completely naked walking down a public beach, but it turned out they were only wearing micros. I really think guys that big should think twice before taking them out in public. On the other hand, if they are okay with it, then I guess I should be, too. Thankfully, there are plenty of really sexy men wearing them that it balances out fairly well.
I have a couple micro swimsuits myself, but I haven't gotten up the courage to wear them out in public just yet. I don't want people laughing at me because they think I shouldn't be wearing something this skimpy in public I guess. I am sure that one of these days I will feel comfortable enough to wear them out in public, but I'm not going to push it just yet. I will just have to be happy with wearing them while I get the best tan in the world out in my back yard.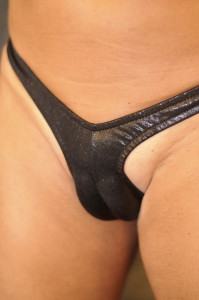 Men's male to female transformation swimsuit
I did have a bit of an issue with picking out my first micro swimsuits design, though, and I feel I should tell other guys that might be interested in ordering something like this. It may look extremely small in pictures online, but the micro men's designs have more than enough room for most men. I ended up ordering one that I thought was big enough for me and it turned out to be a bit baggy in the areas that it shouldn't have been. Keep this in mind when you start thinking about ordering one for yourself. You don't want a baggy micro hanging around your waist. It isn't very flattering at all and that isn't the opinion that you want to leave people with when you walk away.